환영
♥ rai·son d'ê·tre (rā'zōn dět'rə,) {존재 이유}
n. pl.reason or justification for being or existence
나는


naomi jung
서여정, 三浦 なおみ
29 june 1992
ngee ann poly mass communications
Rorsharch ink blot
Pianist
J Tune Entertainment

& ooooh, Rain 비 = ♥


ll.intoxicated.ll@gmail

Heart of God Church ♥ b41

/more about me
wishlist

friendster
cyworld
facebook
wordpress


나의 남편!

누구지?

정지훈/Rain/Jihoon - the husband.

Faith/Spaz - the best friend.

Prisia/Siao - the other best friend.

Cheryl - Cooking mama

Joyce - Korean fanatic.

Brother (wenjun) - who has 10000000 brains

Hyun - Mr Smart-ass Korean.

Chew - Dear Leader.


용어

Ajumma (아줌마) : Auntie

Ajusshi (아저씨) : Uncle

Chagiya/Yeobo (자기야/여보): Darling/Honey

Namja Chingu/Namchin (남자친구/남친) : boyfriend

Yeoja Chingu/Yeochin (여친/여자친구) : girlfriend

Hyung (형) : Older brother (for males)

Oppa (오빠) : Older brother, also can be used as "boyfriend" in a steady relationship (for females)

Nuna (누나) : Older sister (for males)

Onni (언니) : Older sister (for females)

Ssulung (썰렁) : "so cheesy/cold/lame" for cold jokes

Selca (셀카) : camwhore/self camera

Wang Ja (왕자) : 6 pack/washboard abs


할말!





친구

♥ Heart Of God Church
♥ B and C Zone!
♥ donghaeng; Lord and Me
♥ Moi-même-Moitié
♥ amelia
♥ andrew lau!
♥ andrina
♥ anqi
♥ bellrarie!
♥ boxue!
♥ candy!
♥ cassandra!
♥ chew!
♥ clara!
♥ dajie
♥ darren!
♥ daryl!
♥ debrah
♥ faith, best friend!
♥ fedora!
♥ gabrielle!
♥ hinwen
♥ ivan!
♥ jasmine
♥ jia en!
♥ jia jia!
♥ jiayang!
♥ jia yun
♥ joanne!
♥ joyce
♥ kenneth!
♥ le raine
♥ ling
♥ liyin
♥ lucinda!
♥ marissa
♥ nadine!
♥ nelson!
♥ pearlyn
♥ peggy
♥ pei fen!
♥ pei jun
♥ reuben
♥ ruoen!
♥ ryan new!
♥ samantha!
♥ samantha whang
♥ sion; mr kimchi!
♥ shermaine!
♥ shihua
♥ shijin
♥ shizhe
♥ shumin
♥ shu xian/joe
♥ sofiana
♥ sophia
♥ sushian!
♥ sylvia!
♥ thea
♥ ting wei!
♥ trisha
♥ wanwen
♥ wei lai
♥ wendy
♥ winsome
♥ yi jing!
♥ yu xuan
♥ zhiyi!


명사

♥ Abingdon Boys School
♥ Gackt
♥ Kenichi Matsuyama @ Horipro
♥ L'arc~En~Ciel
♥ Malice Mizer
♥ Namie Amuro
♥ S.K.I.N

♥ Big Bang
♥ DBSK Offical Site
♥ Epik High
♥ Rain's Company - J Tune Entertainment
♥ Rain's Company - J Tune Creative
♥ Rain's Offical Site
♥ Se7en
♥ Tablo
♥ Yiruma

♥ Gackt Dears
♥ Gackt Syndrome
♥ Rain Singapore
♥ Rain Union
♥ Sexy Bi


블로그

Blogs I read:

♥ Feet Man Seoul
♥ Joss Sticks
♥ K-popped!
♥ Lakeside Girl
♥ Mr Brown
♥ Mr Miyagi
♥ Mr Wang Says So
♥ PopSeoul!
♥ The Sartorialist
♥ Sibeh Sian
♥ Singaporean Mind
♥ Son of Singapore


주크박스

과거

11월 2005 12월 2005 1월 2006 2월 2006 3월 2006 4월 2006 5월 2006 6월 2006 7월 2006 8월 2006 9월 2006 10월 2006 11월 2006 12월 2006 1월 2007 2월 2007 3월 2007 4월 2007 5월 2007 6월 2007 7월 2007 8월 2007 9월 2007 10월 2007 11월 2007 12월 2007 1월 2008 2월 2008 3월 2008 4월 2008 5월 2008 6월 2008 7월 2008 8월 2008 9월 2008 10월 2008 11월 2008 12월 2008

감사

Layout: vehemency


수요일, 8월 27, 2008, 9:30 오후
` 1077; - Revolutionaries wait


My Pastors, my inspiration.



WHAT IF...



I give a cheque to hoGc in ten thousands...hundred thousands...millions one day?
I become the Next Big Thing?
I use my affluence to influence?
I overshadow Ayumi Hamasaki, Lee Hyori and Jolin Tsai?
I'll use my testimony to impact the next generation?
I eradicate poverty in Africa?
I do my best to help starving, orphaned, sickly children when I become someone famous one day?
I help to plant hoGc Seoul, Busan, Incheon, Tokyo, Osaka, Okinawa and many more?
I become a CGL?

My friends will grow.
My CG will grow.
My church will grow.
I will grow.
I want to replicate my Pastors.



WHY NOT?



(:

But for now, I need to do what I gotta do.
At least I have a direction to go to, to follow.
Nothing is impossible with God.

라벨: God, hogc, introspection, pastors






월요일, 8월 25, 2008, 10:29 오후

` 1076; - you light up my life



"Naomi, I believe JESUS CHRIST is always there for you, so may you be led and guided all the way through your studies ^-^ I will pray for you and the others as well!"

"Oh haha why so random?"

":D Random makes you special! Ha"

I mean, where can I find such great Korean brotherly lurveeeeeeeeee like that? Thank God for bringing Kimchi in my life. And of course Julie, Eunsol, Sanghyun, Hyejune. LOVE!LOVE!

*

Oh, wait, meme~!

1] At what age do you wish to marry?
23

2] What I want the most now?
More friends, more $, more laughter and His presence and love

3] Who is the person you trust the most?
Manymany. Pastor How Pastor Lia Wanwen Chew Sam Ivan Debbie Tingwei Daniel Park and manymanymore

4] Do you think you have enough confidence?
Sometimes

5] If you can have a dream to come true, what would it be?
Marry Rain/the love of my life, be a news anchor/model/celebrity to influence

6] Do you believe in seeing a rainbow after the rain?
Yeah, I wna see it during the rain too

7] What are you afraid to lose the most now?
Lose? My friends? How about flunking. Now that's scary.

8] Do you believe in eternal love?
Yeah, Jesus proved it (:

9] If you meet someone that you love, would you confess to him/her?
Yeah if he does it first. Girls asking first won't work. Been there, done that. But not now ah eh.

10] List out 3 good points of the person who tagged you.
Don't know who tagged me.

11] What are the requirements that you wish from your other half?
Eh. Looks department: Tall, cute, funny, looks great when smiling (I must be able to sense a tingle down my spine when he does that!), small to medium sized eyes. Oh good complexion with a little pimples are okay. Oh and his HAIR. No mushroom bob plskthx. But most importantly he must be able to make me smile when I'm down, encourage me and he must be a Christian. Oh, able to camwhore/act retarded with me, honest, faithful, understanding, caring and would do household duties when I don't feel like it. :D He must be someone that I can share everything with, and he must not JUDGE ME. oh and another thing, at least have a nice fashion sense *shudders*

12] What feeling do you hate the most?
I hate it when people try to judge me, or when they give me the vibe that I'm not needed (around). And the feeling of being betrayed. That's the worst.

13] Do you cherish every single friendship of yours?
Yeah

14] Do you believe in God?
YES. Heart of God Church FTW V^_^V

15] What do you think is the most important thing in your life?
God, family, friends, love.

16] Do you find it a need for you to have a boyfriend/girlfriend?
No, not now. I mean, God will provide, right?

17] At this point of time, would you rather stay in your comfort zone or try something new?
Something new please. I hate staying in a place for too long.

18] What kind of friend you hope to be in your friend's eyes?
Someone who is there to lean on anytime, and just transparent to them. I hope I already am.

19] Brains or looks?
Both I guess.

20] Who deserves to die?
Beelzebub.

라벨: love






6:52 오후

` 1075; - 北京北京,我愛北京








He was the reason why I'm smiling so much while watching the closing of the Beijing Olympics.



내 미래의 남편

. <3




목요일, 8월 21, 2008, 11:30 오후

` 1074; - go energizer bunny go



I'm still in shock over Lee Eon's death. :/

Anyway on a happier note...

It's Raining in Beijing! 8D




YAY FINALLY YOU'VE DONE SOMETHING WITH THAT BOWLCUT! 8D



나의

남편 arrived in Beijing yesterday/today and will be staying there till 24 August, and he'll then return to Korea.

Maybe he'll be singing the closing song of the Olympics but J Tune says it isn't so.

Yeah, usual news, met with China Clouds, proposed to me via webcam, sang, danced, blah.

:D

And another thing...


나의

남편

.
나.
mine.

*fangirls* 8DDDDDDDDDDDDDDDDDDDDD

[edit]



나의

남편 IS going to close the 2008 Beijing Olympics!

AHAHAHAHAHHA YAY.
I'm so going to watch it because after his segment he'll turn to the cam and say, "I LOVE NAOMI SEOW RU TING out loud I want to see the splendidness of it all. HAHA. Uh, Naomi, I don't think so.

It'll air on Aug 24, around 8.00pm (Korea time)

And a last picture...









SO MAN RIGHT. He'll be manlier when he comes to Heart of God Church. HOHOHO




11:21 오후

` 1073; - R.I.P Lee Eon



OH NO. NO NO NO.




Model turned actor Lee Eon has died tragically in a motorcycle accident early this morning on his way from from a wrap-up party for for KBS's drama Strongest Chil Woo. The 27 year old crashed into the guard rail of the elevated roadway in Hanam-dong. He is said to have died on impact.

As a resident of this city, that particular strip of elevated road is banked, curved and not well maintained. In other words, dangerous.

Yongsan police have released a statement that they yet to rule out whether he was riding under the influence of alcohol.

Having his start in modeling, Lee Eon rose to fame in last year's successful drama, Coffee Prince.

[credits to popseoul.com]

I loved him in Coffee Prince...
):

This shows how fragile life is.
Uncannily similar to how Kim Min Soo of Monday Kiz went, don't you think.

:/

Thanks for the TV memories.




10:08 오후

` 1072; -



"Hey Naomi, I was very touched by your testimony."

That statement by three people brightened up my day.
I love you, Julie, Daniel and Hye June. (:

라벨: white noise






화요일, 8월 19, 2008, 11:58 오후

` 1071; - nocturne






Thank You for reminding me of this, oh God.

And a list of people I want to mention:

Bryan
Daniel Park
Balloonnnnnnnnn
Julie
Hye June
Christine
Wanwen
Vivian
Vanessa
Daniel Chan
Jia Xuan
Shermin
Jael
Elijah

I love you prayer group (:
Thank God for friends like you.
Certainly this is a year of favour with God and men (not MEN, per se, it's MAN MEN).
Prelims, argh.






1) STUDY




2) STUDY




3) STUDY




4) STUDY




5) STUDY




6) STUDY




7) STUDY




8) STUDY




9) STUDY




10) STUDY



Yeah you get the idea.

라벨: blah






일요일, 8월 17, 2008, 10:16 오후

` 1070; - you got me going crazy






WHY OH WHY DOES THE GOOD STUFF HAPPEN WHEN I'M DOING MY O LEVELS?!?!? ):

I want to go for Epik High's concert in Seoul and it's like in SEPTEMBER?! Kwon Sang Woo's wedding is one day after that but I don't care about KSW, sorry Joyce.

Tablo is a LEGEND. Seriously.
When I become a celeb I must meet him.
He graduated from Stanford University with a major in English Lit, yo.
Jin and Mithra! :D

EPIK HIGH EPIK HIGH <3

라벨: epik high






토요일, 8월 16, 2008, 2:54 오후

` 1069; - it's foolishness I know






I could sing of Your love forever

라벨: white noise






목요일, 8월 14, 2008, 9:57 오후

` 1068; -




A little boy of thirteen
was on his way to school
He heard a crowd of people laughing
and he went to take a look
Thousands were listening
to the stories of one man
He spoke with such wisdom,
even the kids could understand

The hours passed so quickly
the day turned to night
Everyone was hungry
but there was no food in sight
The boy looked in his lunchbox
at the little that he had
He wasn't sure what good it'd do
there were thousands to be fed

But he saw the twinkling eyes of Jesus
the kindness in His smile
and the boy cried out
with the trust of a child
he said:

"Take my five loaves and two fishes
Do with it as You will
I surrender
Take my fears and inhibitions
All my burdens, my ambitions
You can use it all
to feed them all"

I often think about that boy
when I'm feeling small
and I worry that the work I do
means nothing at all



But every single tear I cry




is a diamond in His hands




and every door that slams in my face




I will offer up in prayer



So I'll give You every breath that I have


Oh Lord, You can work miracles




All that You need is my "Amen"



Take my five loaves and two fishes
Do with it as You will
I surrender


Take my fears and inhibitions




All my burdens, my ambitions




You can use it all


I hope it's not too small

I trust in You
I trust in You



Take my five loaves and two fishes




Do with it as You will




I surrender




Take my fears and inhibitions




All my burdens, my ambitions




You can use it all




no gift is too small
라벨: God, revelations
화요일, 8월 12, 2008, 4:41 오후
` 1067; - do with me as You will




NGEE ANN POLYTECHNIC MASS COMMUNICATIONS
WELCOME ME WITH OPEN ARMS, YO.

I think a B3 is good enough for my chinese but Mum says no so yeah, I'm retaking (:

Anyway I know this is old news but congratulations to

Park Tae Hwan

for winning gold in swimming, Men's freestyle 200m for the Olympics! Go Ko

rea

Go! :D

Before you accuse me of not being nationalistic, I think Tao Li did

VERY

well. I mean, you go swim for the Olympics and broke the Asian record and qualified for the finals, lost by 0.15s. I think that's super commendable already (:

Okay enough about Olympics, it's driving me crazy.

Recess-ed with Daniel and Balloon today and it was crazy. They threatened me that if I don't buy anything to eat I can't be in the Hwaffles Club anymore ): Okay take that Daniel Park Seong Chao I'm going to eat. Not.

And I really think it's God that gave me the spot in Ngee Ann. I thought I couldn't get in at all. But thank You. (:



PASTOR HOW GET WELL SOON! :D

라벨: white noise






일요일, 8월 10, 2008, 10:30 오전

` 1066; -



Oh how I love Heart of God Church.

I was like praying for new friends yesterday, really praying and then Wanwen messaged me if she could bring Chin Yee and Bryan Koh along.

And when they came Sylvia was saying: "I also prayed for new friends!"

Okay we just simply flow too much man...

On Friday had an amazing fellowship with Daniel.
I "coincidently" bumped into him at Aljunied library with Cheryl and met Jael there.
Then Cheryl and Jael left (THANKS AH) and walked Daniel to his church.
We were talking about the prayer group, our plans for it,and how God actually changed all of us and whether I could join him for recess on tuesday with balloon.

And he got me lost in Geylang. But managed to find my way to Singpost in time for BM.

Back to today (:
Bryan is super open!
YAY. He is coming back for service of Saturday and we're planning some kind of study outing with him this week because he has N Levels.
But I believe God can touch him like what He has did to me (:

Oh and thanks to the Ivan influence I LOVE COLDPLAY(:
OH AND WAITWAIT.

Bryan Koh: Best Friend upgraded to Brother.
Ryan New: Brother!!! :D
Eric Chen: Adopted Godfather
Boxue: ACTUAL godfather (but doesn't want me so sad huh oh noes it sounds wrong.)

YEAH I'm done with my incomprehensible post. No school tomorrow, piano in the morning and chem in the afternoon how romantic can it get.

But it just makes you smile when people message me "jiayou naomi!" and that makes all the difference because God is there too.

Okay goodday and goodbye

라벨: happy






목요일, 8월 07, 2008, 8:50 오후

` 1065; - it will eventually happen






For I dream big.

라벨: white noise






수요일, 8월 06, 2008, 10:01 오후

` 1064; - to have said what you have said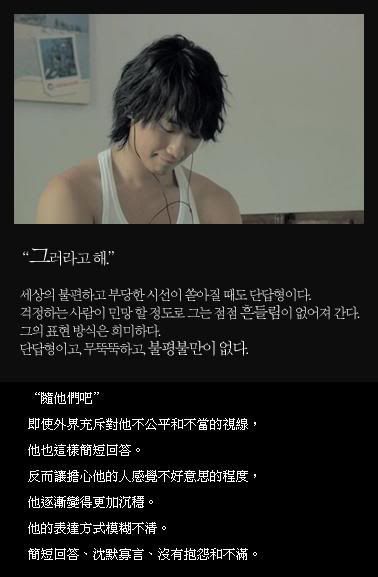 ""Let them say what they want to say."
Even if the world is unfair and unjust
I will keep on keeping on.
And those around me will then realize.
I will then grow stronger
My expression will be unreadable, I don't want them to know.
Just this short phrase, it's enough for me."

- Rain

라벨: Rain, revelations






9:48 오후

` 1063; -








Lucky I'm in love with my best friend


Lucky to have been where I have been
Lucky to be coming home again


Lucky we're in love every way


Lucky to have stayed where we have stayed
Lucky to be coming home someday

*

In case you were wondering, it's nothing here, right now, it's later, somewhere.





라벨: love






화요일, 8월 05, 2008, 11:00 오후

` 1062; -



JUNJIN & MINWOO ARE COMING TO SPORE IN NOV!!!!! says:


NAOMI YOU'RE OUR ONLY HOPE





♥.† 지훈&直美; なおみ!2.0 says:

?!?!?!

JUNJIN & MINWOO ARE COMING TO SPORE IN NOV!!!!! says:

lookie:

Rain

has openly admitted that he is willing to go after anything with a skirt as long as she is either 10 years older or younger than him. So that will make him either into cradle robber (age 16) or boy toy (age 36).





♥.† 지훈&直美; なおみ!2.0 says:

uhuh.

JUNJIN & MINWOO ARE COMING TO SPORE IN NOV!!!!! says:

DID YOU READ IT

♥.† 지훈&直美; なおみ!2.0 says:

yeah

YAY

my husband :3 :3 :3

JUNJIN & MINWOO ARE COMING TO SPORE IN NOV!!!!! says:

when you get married intro minwoo to me okay

...................................

HAHAHAHAHAHAHHAHAHAHAHAHAHAHHAHAHAHAHAHA






토요일, 8월 02, 2008, 7:54 오후

` 1061; - l'amour de la mia vita






you float like a feather in a beautiful world.

라벨: white noise






11:43 오전

` 1060; - I see You in a kiss








You still captivate me, fascinate me




You still captivate me, saturate me




You still captivate me, liberate me




You still captivate me



Festival of Praise was totally brilliant. If I had the chance I'll go again today. But there's something called parents and Academic Excellence Study Rule...

I was looking at Pastors the whole time. I mean, I can feel that we're there, our church can fill the whole stadium... it's just us left, to invite, to serve, to lead. Notice I put serve before lead because that is what it is. You gotta serve before you lead. I was looking at Pastors the entire time man... it gets me so excited that I'm serving beneath such wonderful Pastors... thank God for leading me to this church.

I feel that I've grown to a whole new level. I just had a paradigm shift and I have never felt the same. Yeah it's just that feeling, you know?

Could see that Wanwen and Vivian enjoyed themselves. Yeah duh because the presence of God was so tangible, I almost cried when Omega shared his testimony. Even though I've heard it before but you know it has a difference when you hear it again and again. But the only thing that didn't change was his heart behind the sharing.

Rev Mark Conner was hilariously funny, relevant, and to the point. Amen to all that he said. Gained a lot of revelations from it. And this phrase stuck in my head:

"Go. And in Greek, go means... GO."

I saw that Wanwen would be a counsellor, for troubled youth and that God will use here in this area... and when I told her about it, she was all OMG YEAH HOW YOU KNOW. It's God man, it can only be God.

And I saw myself like Omega, praising God, worshipping and leading others by pulling the presence of God right down, into a stadium which is much, much bigger than this... And God said, "Naomi, I'm giving you more tests to show that you can do this... and you can share your testimony to touch others and you are a medium for me to flow through. And you will be my instrument."

I can see myself in a concert like this. Only difference is that I'll be on stage. It's not only my concert, it's God's concert. It's the entertainment world that's at stake and God is the only solution.

I stayed up till like 230 to study math... because I was so hyped up I can't sleep. But hey it's only God wanting to talk to me...

I love Him. So so so x infinity much, I wouldn't trade my life, with yours, anytime.

*

I will be like her one day. In terms of dance, singing, but not the secularism.

Her name is Lee Hyori, and she's arguably one of most talented and highest paid female artiste in Korea. She was talent-spotted while taking neoprints with her friends (can't you believe it, NEOPRINTS)



No longer Hyorish, it's Naomish! :D
HEHEHAHAHOHO.
J Tune, welcome me with open arms!

라벨: revelations






금요일, 8월 01, 2008, 12:01 오후

` 1059; -






정지훈! :3

라벨: Rain